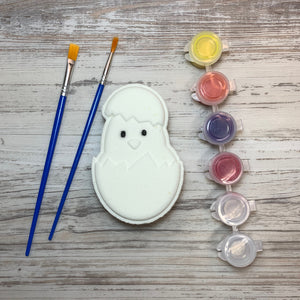 Homemade Wellness By Jamie
PAINT-YOUR-OWN BATH BOMB
Regular price
$9.99
$0.00
Tax included.
Shipping
calculated at checkout.
PAINT-YOUR-OWN BATH BOMB (Scented with Blueberry Fragrance Oil) - This cracked egg/baby chick bath bomb sets is great fun for anyone who wants to try painting their own bath bomb. Give it a try! 
Each Paint-Your-Own Bath Bomb Set comes with one white bath bomb, two paint brushes, four mica paint colors & rubbing alcohol.
Ingredients - Baking Soda, Citric Acid, Cream of Tartar, Corn Starch, SLSA, Grapeseed Oil, Polysorbate 80, Witch Hazel, FDA Batch Certified Dye & Lakes, Mica & Fragrance Oil.
How to Use - Please mix or shake the bath bomb paint before using. Remove bath bomb from shrink wrap and paint bath bomb with mica paints that are provided. DO NOT rinse paint with water between colors, this will activate the bath bomb. Wipe paint brush with a paper towel. Let bath bomb dry or use right away. Add bath bomb to a warm bath and ENJOY!! 
Warning - If you are pregnant, nursing and/or on medication, please consult your doctor before using. The safety of this product has not been determined.
Net Wt - 5.2oz
**BATH BOMBS ARE WRAPPED IN BIODEGRADABLE SHRINK WRAP!!**
**These are not an all natural product.**
---